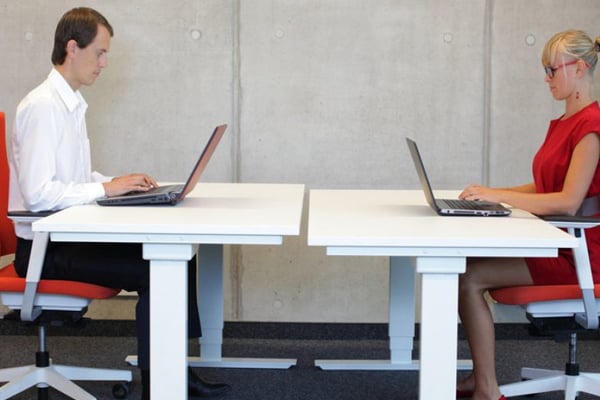 Ergonomic Risk Assessment
Overview
For many employees there is a lot of time spent at their work station. There are a number of changes that that can be made to make life at work more comfortable for employees. Good ergonomics can make a tremendous difference to the quality of your employees' day, which impacts the quality of their work and happiness. With the introduction of new ways of working with laptops, tablets, sit- stand desks, hot desks etc. there are many times that employees may be exposed to risk of muscular skeletal or repetitive strain injury. Poor lighting or noise in the workplace can cause employees to feel stressed out.
Completing Ergonomic Risk Assessments can prevent employees having poor posture, and unhealthy working conditions that may result in more sick days, reduced productivity, increased risk of muscular skeletal injury due to postural misalignment or workplace induced stress. EcoOnline can assist your organisation in complying with DSE/ Ergonomic legislative requirements and improving the comfort and safety of your employees.


Who Should Attend
Employees who spend more than one hour per day using Display Screen Equipment. Employees who work in production or laboratory settings where the tasks they undertake may require them to make unhealthy postural movements or the repetitive nature of their work may result in muscular skeletal strain injury.
Course Objectives
On completion of this course participants
Will be aware of the legislation relating to Ergonomics
Identify areas of concern at their workstation set up
Know how to adjust their workstation to minimise risk of muscular skeletal injury and /or repetitive strain injury
Course Outline
Initial consultation with the employee
Completion of Personal Risk Assessment (Confidential)
Evaluation of Personal Risk Assessment (Confidential)
Observation of employee working at workstation
Identification of areas of concern for employee at the workstation
Review identified areas of concern with employee
Prepare action plan for employee
Deliver confidential report to organisation
Method of Delivery
Assessor to Employee One to One Based: On site delivery.
A Practical and interactive approach to by our experienced and qualified Assessors to the individual on site. Participants will gain an understanding of how to use their workstation effectively and prevent injury or ill health occurring
Course Duration: 30 mins
No of Participants: The instructor student ratio is 1:1 for this course.
Evaluation
Evaluation: An assessment takes place with the individual employee. A confidential report is sent to relevant organisation manager.
Re-assessment should be undertaken if the employee moves workstation or significant changes in equipment occurs
Seadna Morey
DGSA Advisor/Trainer
Contact us to explore Training
If you want to talk to someone in relation to the completing any of our training course for your business, contact one of our chemical safety experts in EcoOnline.