Product updates
You may have discovered a few changes in our applications lately.
In case you missed it, we've rounded up some of our most popular updates for you.
EcoOnline is expanding its Safety Manager solution to include a Contractor Management module which allows users to digitally create, manage, share and monitor work permits. The module also enables auditing and register accepted contractors.
Today many companies meet the challenge with paper or Excel based Contractor Management handover processes. Hours are spent on paperwork without a fluid way to track any given work permit, leading to a lack of communication and information which may lead to accidents.
With our new Contractor Management module all documents are managed digitally, connecting all involved parties instantly and allowing real-time oversight of ongoing activities. The digital solution also reduces a lot of repetitive steps in preparing work permits.
Company managers and HSE personnel can create, track and record all contractors on their site. These can be shared to respective contractors and executors for reading and confirmation requirements e.g. control measures and Personal Protection Equipment (PPE). Our tool gives you a complete oversight of the Contractor Management workflow in your organisation.
The data provided through our Contractor Management module provides valuable insights that can help improve worker safety by linking permits to incidents and accidents, risk assessments, audits and inspections and work instructions.
Permit to Work is a written permission on how to control high-risks and ensure the safety of work being carried out on site, either by employees or hired contractors. This new module is an effective method to ensure safe handling of non-routine procedures and to make sure that precautions required to carry out a task safely are understood.
It's not all about documents. It is important to consider the process of doing high risk procedures. We are offering effective, digital and modern ways to conduct Contractor Management requirements and to make sure that all processes are done before, during and after work.
Work in process plants and construction engineering are some examples of high-risk environments that always require written work permits.
Some examples of high-risk environments:
Work with high voltage equipment

Entrance and work in confined spaces

Excavation at risk of collapse

Working at heights

Manual handling

Hot works, such as welding

Working with and storage of pressurized equipment

Working with hazardous chemicals
It's important to be aware that risk assessments, work instructions and plans for high-risk procedures should be carried out as standard. These should be performed by personnel with approved training and necessary qualifications. EcoOnline takes no responsibility for the safety of your work, however we are happy to help you achieve levels of excellence while using our up to date, digital HSEQ-solutions!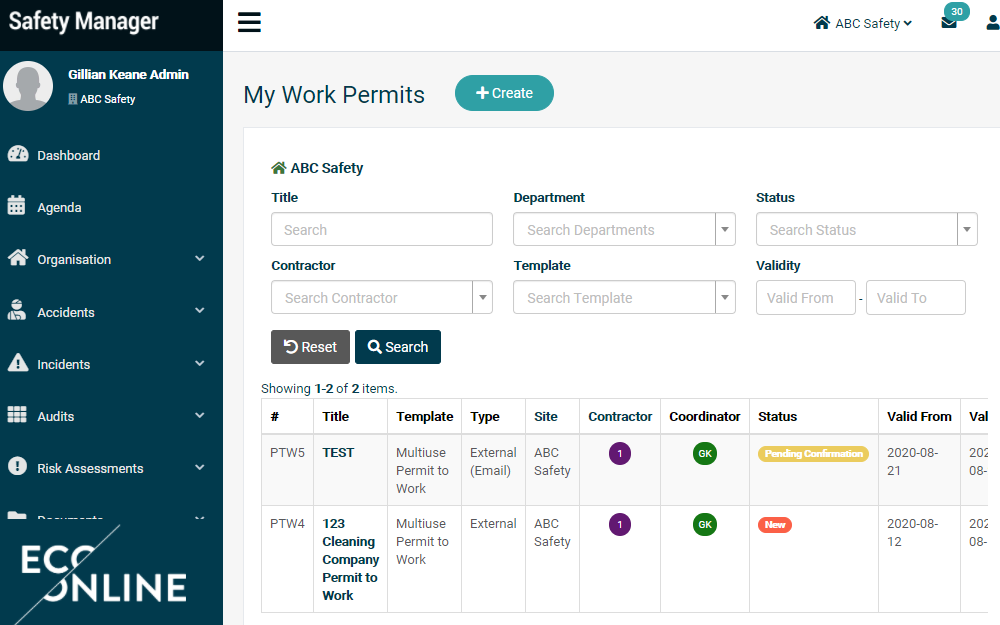 1. Quickly create all types of work permits
Use predesigned templates or easily create your own with our intuitive Smartform feature configurable to your organisation's needs.

Conduct audits of your contractors using the integrated audit and inspections module. Track and manage contractor approvals, register and audit.

Easily assign permits and share permits to contractors or own personnel in real-time.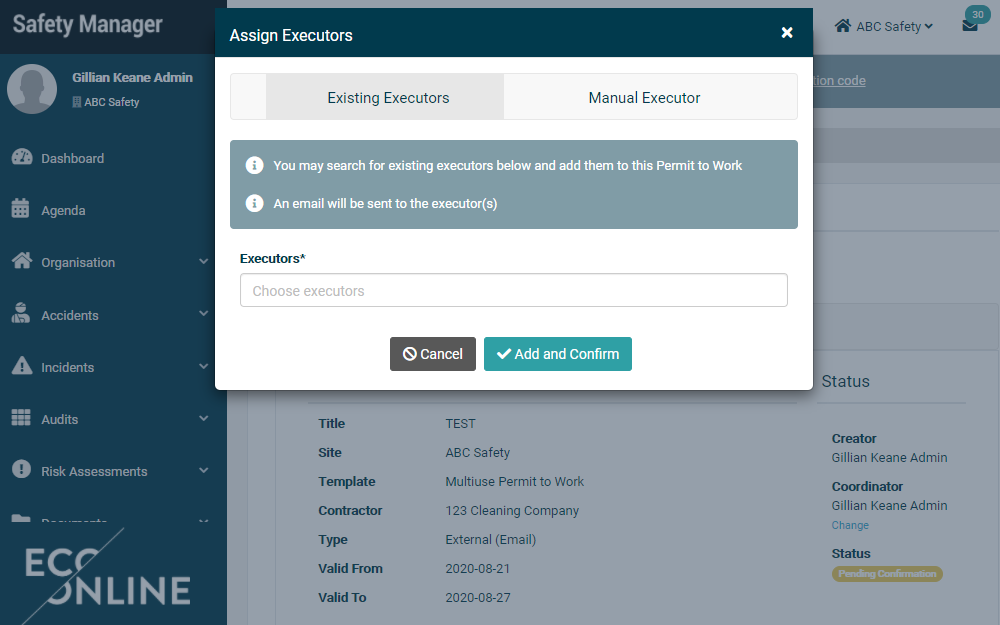 2. Plan and add own workers or hired contractors/executors
Give your contractors the opportunity to confirm and update their own work permit documentation according to the process you have outlined.

Allow contractors to report incidents during their time on your site.

Hired contractors don't need to login to receive work information, update work permit forms and confirm.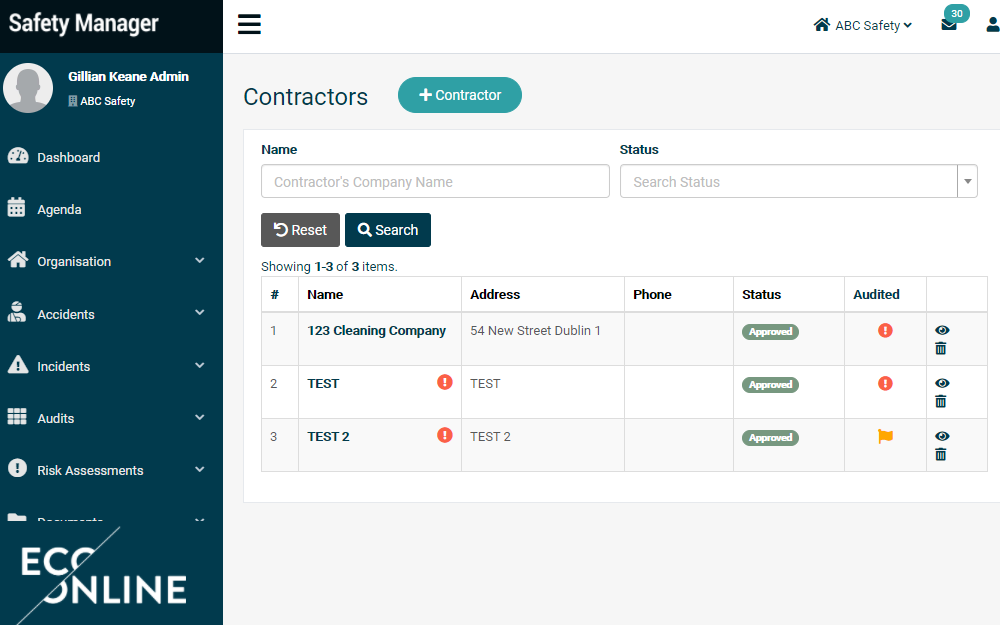 3. Track ongoing work permits, check post-work control measures and archive permits
Get insights through reports and easily check work status

Ability to grant, update and extend work permits.

Include

must-read components, like risk assessments,

project information, work descriptions, potential hazards, control measures before, during and after work.
increase diligence of access, sharing & tracking
This feature enables users on Safety Manger to request read and understand confirmation for completed Risk Assessments and uploaded Documents from individual members or groups within their Organisation.
Read and Understand feature will help our Safety Manager customers to:
easily share important safety information within an organisation
to increase the diligence of access to documents by confirmation request
track sharing and reading of document to achieve compliance
be able to show information for sharing records to authorities in case of accident or during inspection
be able to show information for sharing records to auditors during audit"
1. Create request
Request read and understand confirmation for completed Risk Assessments and uploaded Documents from individual members or groups within their Organisation. You as the request user have the ability to apply read request deadlines, set reminders and require explicit acknowledgement that targeted members have read and understood the contents of a completed document.
The Read and Understood feature is currently available for the Risk Assessment and Documents modules and will be made available to other modules in due course - Incidents, Accidents, Audits & Inspections.
2. Dashboard Access
Members are notified of Read & Understand requests by email notification and can easily access these requests via the Safety Manager dashboard "Assigned to me" section once logged in.
3. Read Confirmation
Members can open and the requests, view the document in PDF format directly on Safety Manager and once read, members can/should confirm they have read and understood the document.
4. Manage Your Requests
You can check at any time on the current status of your Read Confirmation requests. Review a list of all targeted members via the request management page to check the status of each targeted member. By simply clicking the "Set Reminder" button you can set dates for reminder notifications to all members who have not yet read / Acknowledged the requested document.
covid-19 risk management software
New features tailored to new risk situation
With the COVID-19 pandemic, there are constant changes that have led companies to adapt to new rules and situations in record time. To prevent the handling of health, environment and safety measures to be left behind, EcoOnline has implemented new features in the Safety Manager HSE system.
With ready-made templates and checklists, tailored to the situation, EcoOnline has made it easier for businesses to gain an overview and to control any risk while maintaining continuous HSE work.
Based on governmental guidelines and a thorough quality assurance check carried out by EcoOnline's experienced HSE experts, the following new customized features are now available:
Evaluate and Update the Coronavirus Pandemic Preparedness with COVID-19 tailored Preparedness Checklists
Ready made infectious event report-templates to follow all reported incidents and take corrective actions
"Working at home safely" checklist: for the safety and ergonomic working conditions of your home office
In case you missed it:
Release notes roundup
Actions has now been integrated with Smartforms allows users to create their own templates to use in the Action Module. We have our existing Action form converted to Smartforms and this is the default admin template provided in Actions now.
Pre Approval of actions has been added. Organisations have the ability (Through the Administration section) to turn on the Pre-approval of actions workflow meaning any actions created on the system will require approval (Pre approval) before the action can be worked on.
Administrators can now toggle the visibility setting for the Incident & Accident modules. To date we only has restricted visibility on documents within these modules meaning only responsible persons / watchers could get access to these documents. Now admins can change this default setting from 'Restricted visibility' to 'Open visibility' allowing any member with viewer / read access to see and access all incident or Accident documents.

This was a requirement for some organisations so we have added the capability for administrators to configure this themselves for their own organisation.