CHEMDOC is now CHEMICAL MANAGER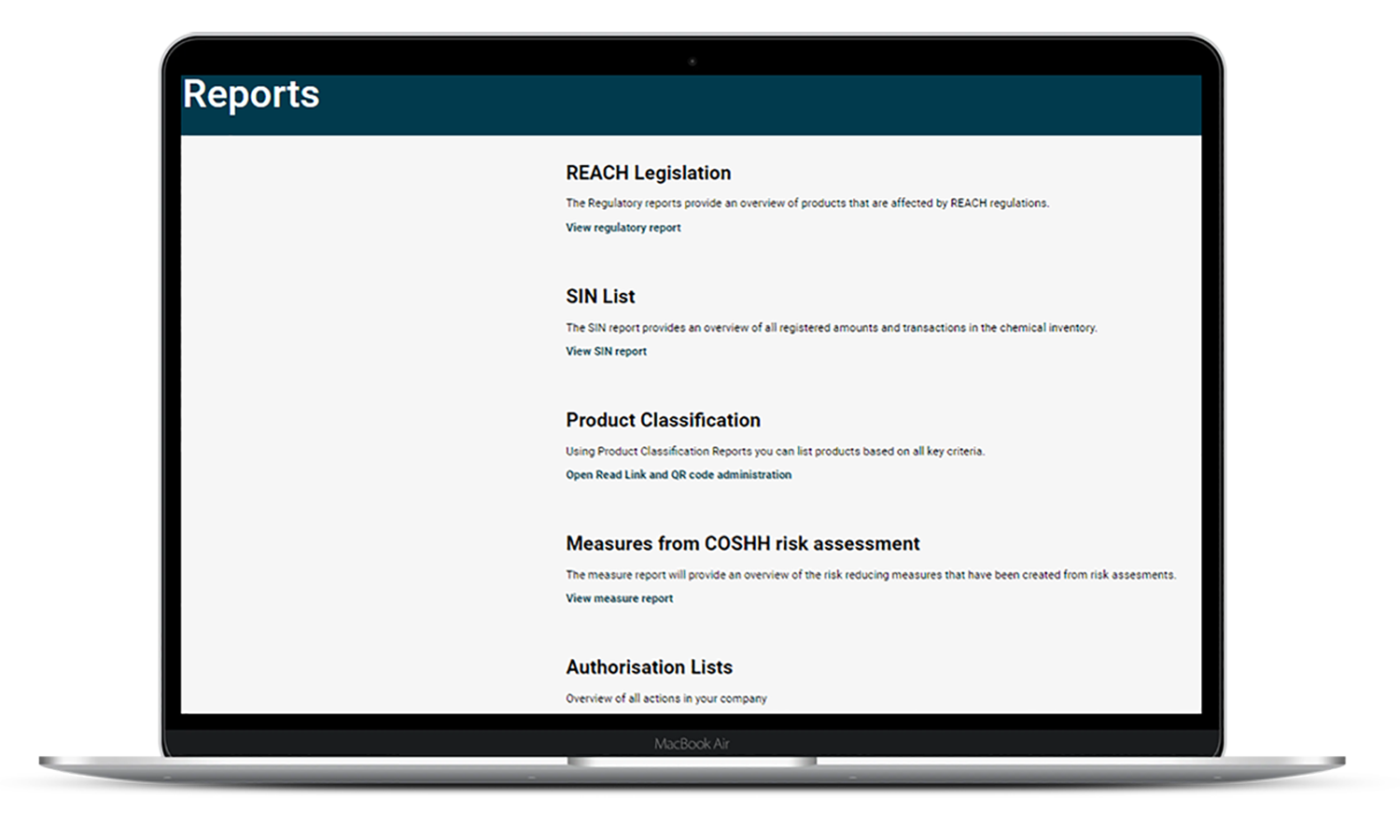 Chemical Reporting
Real time information ensures best practice in chemical compliance
Customisable reports and lists views - bespoke to suit your compliance needs

Compare your inventory live in line with REACH Legislation and COSHH Compliance

Easily download and edit excel documents

Share chemical safety reports with staff and run live updated inventory checks instantly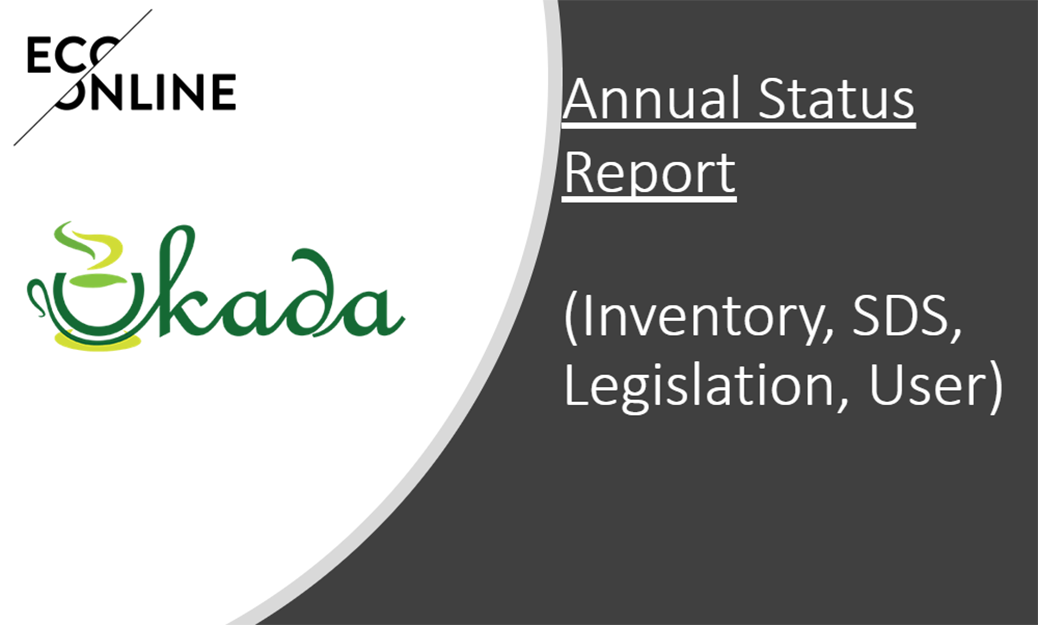 1:1 annual reports created by our consultancy experts
Inventory status and SDS update report
User update status
Products on legislation lists and recommendations


"It has become easier because we now just type the products and then the system does the rest. So it finds the safety data sheets, makes the APB's and everything - and keeps an eye on changes and updates"
Tim Christiansen, Working Environment Representative, EC Power.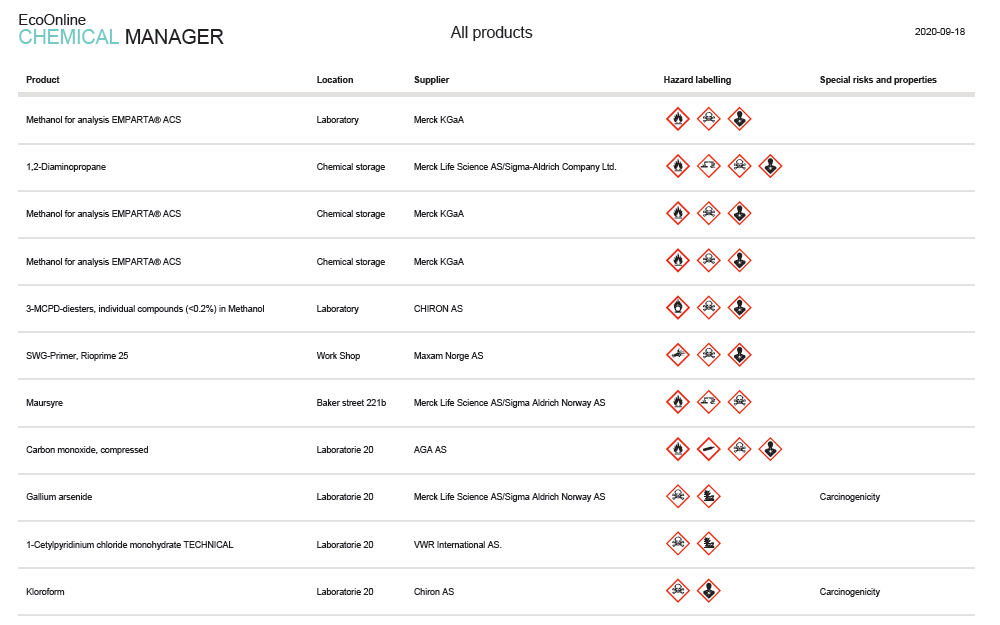 Product Classification Reports
Using Product Classification Reports you can list products based on:
A single classification (flammable, corrosive, etc).
A specific risk (pregnancy hazard etc).
A number of classification criteria (CMR report to show all carcinogenic, mutagenic or reprotoxic hazards).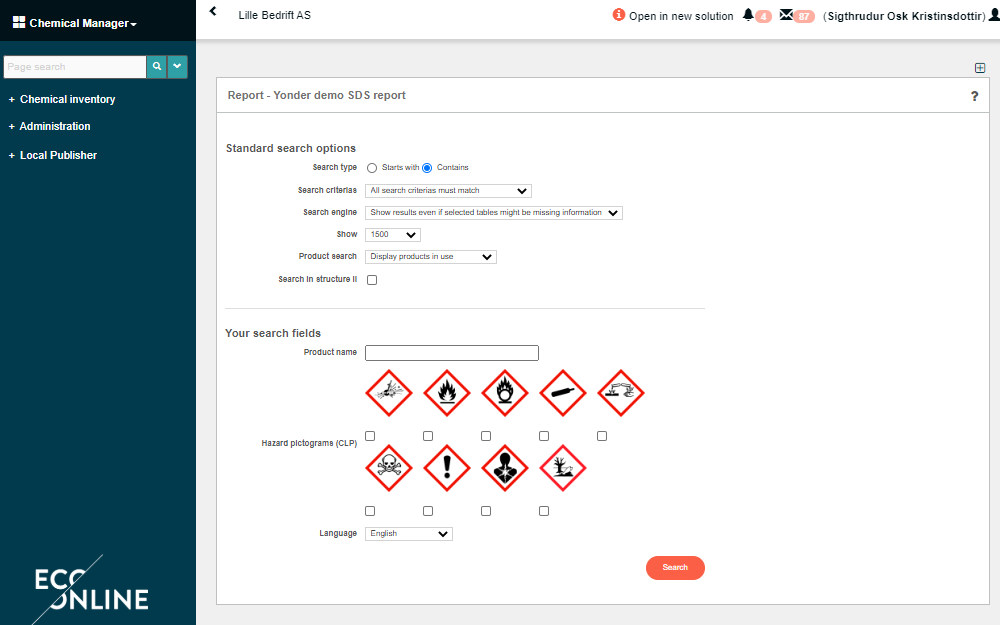 SDS Health Reports
Run reports on the quality and health of your supplier safety data sheets
List all non-compliant SDS (missing or incorrect information).
Summary of products by SDS status (GHS, non-GHS etc).
Summary of products by revision year.
Legislation Lists
Run reports on substances within the products on your inventory and filter according to regulatory lists
List all individual substances by CAS Number.
Comapre substances in your inventory against regulatory lists.
Filter reports according to substance classification.
Key Features of
Chemical Reporting
Legislation reports
Advanced reporting
Amounts report
Fire report
Environmental report
Exposure report
Custom reports
SDS management reports
Kara
Administrative Co-ordinator, EcoOnline
Get started with Chemical Reporting today
Book a demo with one of our consultants to discuss digitizing your chemical safety processes with Chemical Manager.
You can also request a demo with one of our expert consultants.